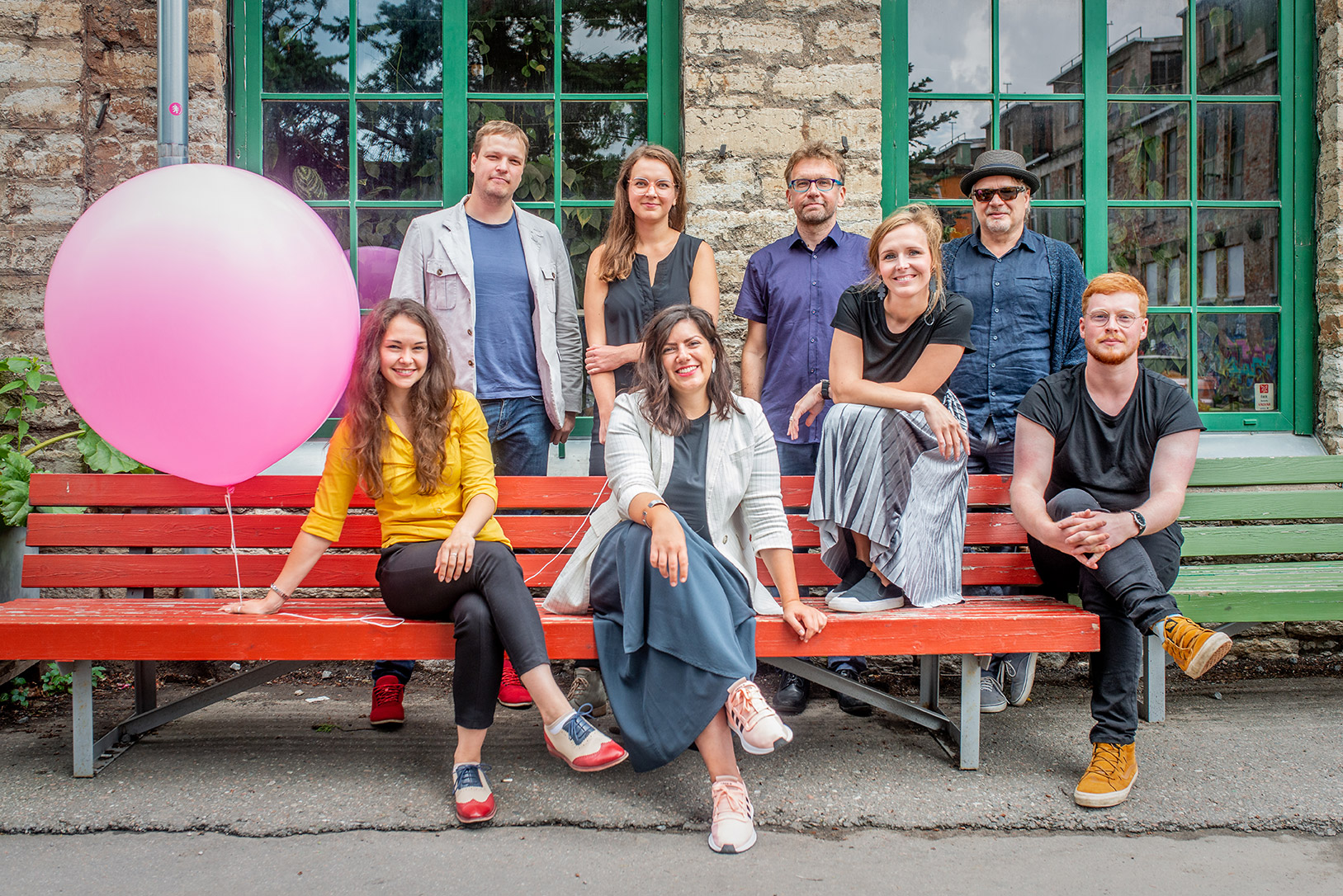 Back row (from left): Raimond Mägi, Kirke Karja, Jaak Sooäär, Toomas Rull.
Front row (from left): Merylin Poks, Ave Tölpt, Anni Metstak, Lauri Kadalipp.
Photo: Rene Jakobson

On 13 May 2019, a new Management Board was elected at the general meeting of the Jazz Estonia. The new board members include Lauri Kadalipp, Priit Koff, Jaak Sooäär, Mingo Rajandi, Toomas Rull, Raimond Mägi and Kirke Karja. Jazz pianist Kirke Karja was appointed Chairman of the Board. As a result of a competition, Ave Tölpt was elected as CEO. On Friday, 6 September 2019, the start of the Jazz Estonia's 16th season was celebrated at Fotografiska.
Kirke Karja, who was also a board member in the previous management, notes that the Estonian jazz scene is undergoing favourable times and she is not predicting any abrupt changes: "We, alongside several other area organisations, are following the Estonian Jazz 2030 strategy."
"We have decided to pursue the goal of expanding our concert activities. We are more focused on education, heritage and internationalisation, and this focus is sup-ported by several projects," Karja explains. New cooperation projects are initiated both domestically and internationally.
"Under the auspices of the birthday of Estonian jazz, we will celebrate the union's 15th anniversary and the 101st birthday of jazz, and we will do it primarily by introducing new music," Karja describes one of the primary events of the forthcoming season. Several pieces will be brought on stage by Ain Agan, Kristjan Randalu, Marianne Leibur, Estonian Voices, JT Conception, New Wind Jazz Orchestra and several other outstanding artists.
Furthermore, the Jazz Estonia's concert programme will make its way to ten different locations around Estonia. Concerts will be held in Tartu, Pärnu, Rakvere, Viljandi, Võru, Saaremaa, Türi, Haapsalu, Sillamäe and Valga.
New people have also joined the Jazz Union's staff. In addition to our CEO Ave Tölpt, Merylin Poks has joined the team as Project Manager and Anni Metstak as Head of Marketing and Communications. Anett Tamm continues as Head of Program.
Find the season's concerts on the Jazz Estonia's Facebook page and at jazz.ee.
You can follow the Jazz Estonia's birthday event here.
Additional information:
Anni Metstak
Head of Marketing and Communications of the Jazz Estonia, info@jazz.ee, +372 56 48 16 08