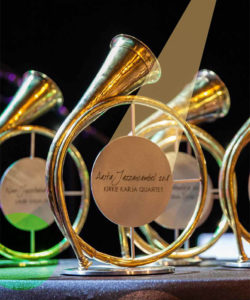 Jazz Awards were given for the 15th time in 2021!
The goal of Jazz Award is to acknowledge the most active, professional, and creative jazz musician in Estonia. Estonian citizens, residents, or ensembles will be evaluated who have stood out with their creative work in the last three years. From 2013-2018, the award was called Danske Jazz Award. In 2007 – 2012, it bore the name Elion Jazz Award.
The most important jazz award in Estonia has been won by:
Holger Marjamaa (2021) – piano
Joel Remmel (2020) – piano
Raul Sööt (2019) – saxophone
Mihkel Mälgand (2018) – double bass
Mart Soo (2017) – guitar
Maria Faust (2016) – saxophone
Kadri Voorand (2015) – vocals
Meelis Vind (2014) – clarinet
Taavo Remmel (2013) – double bass
Villu Veski (2012) – saxophone
Kristjan Randalu (2011) – piano
Raivo Tafenau (2010) – saxophone
Siim Aimla (2009) – saxophone
Tanel Ruben (2008) – drums
Jaak Sooäär (2007) – guitar
Next to the Danske Jazz Award, Danske Bank, Jazz Estonia and Jazzkaar give out the Young Jazz Talent award which is meant to acknowledge the initiative and good skills of young musicians and to encourage their pursuits. The Young Jazz Talent Award is given to up to 26-year-old talented musician who has achieved something remarkable and notably contributed more to their progress than their peers normally.
The winners of Young Jazz Talent award:
Rita Ray (2021) – vocals
Marianne Leibur (2020) – vocals
Karmen Rõivassepp (2019) – vocals
Lauri Kadalipp (2018) – saxophone
Janno Trump (2017) – bass guitar
Heikko Remmel (2016) – double bass
Aleksander Paal (2015) – saxophone
Kirke Karja (2014) – piano
Holger Marjamaa (2013) – piano
Kaspar Kalluste (2012) – drums
Joel-Rasmus Remmel (2011) – piano
Peedu Kass (2010) – double bass
Sofia Rubina (2009) – vocals
Kadri Voorand (2008) – vocals
Erki Pärnoja (2007) – guitar
Since 2009, the Jazz Promoter Award is also given out. The goal of this award is to recognize a person or organization who has notably contributed to introducing and developing jazz music in Estonia.
Jazz Promoter Award has been given to:
Philly Joe's TV (2021) – for starting the online streaming of concerts in Philly Joe's which quickly grew into a special and much loved channel
Student Jazz festival TUJA (2020) – for supporting the initiative, creativuty and international relations of young Estonian jazz talents.
Maian-Anna Kärmas & Radio Tallinn (2019) – for promoting Estonian jazz in Radio Tallinn
Maian Kristiina Liivik (2018) – head of Saue Music School and festival Visioon
Rene Jakobson (2017) – for photographing jazz musicians and the music life
Philly Joe's jazz club (2016) – restoration of the jazz club tradition in Tallinn
Tiit Paulus (2015) – long-term valued lecturer, band member, and composer
Guido Kangur and Pille Lukin (2014) – for regularly organizing concerts and festival Sõru Jazz
Valter Ojakäär (2013) – for his musical contribution and music programmes
Aivar Trallmann (2012) – organizer of jazz events in Viljandi
Toivo Unt (2011) – artistic director of Nõmme Jazz
Boris Paršin (2010) – teacher and organizer of festivals and concerts
Ain Agan (2009) – professor of Tartu University Viljandi Culture Academy and organizer of Viljandi Guitar Festival
In 2016, also a new category Jazz ensemble of the Year was introduced. Nominee of this category should be a band that is active, has successfully played at least for three years and should have released at least one album. The band should be at least a duo.
Jazz ensemble of the Year has been given out:
Joel Remmel Trio (2021)
Kadri Voorand ja Mihkel Mälgand (2020) with "In Duo with Mihkel Mälgand"
JT Conception (2019)
Kirke Karja Quartet (2018)
Peedu Kass Momentum (2017)
Estonian Voices (2016)
For the first time the Jazz Composer of the Year was given out in 2018.
Erki Pärnoja (2021)
Mingo Rajandi (2020)
Maria Faust (2019)
Kristjan Randalu (2018)