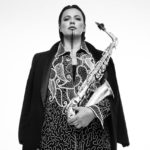 Estonian saxophonist, composer, arranger and improviser Maria Faust won the prestigious award "Hæderspris" from the Danish Union of Composers and Songwriters (Komponister og Sangskrivere, DJBFA). The award was presented on 18 September during a sold-out gala concert in Copenhagen. The award is given once every year to an outstanding composer whose work has had an impact on the Danish music scene.
Maria Faust is a composer who transcends genres; she is well known for her experimental sound and vigorous ideas. Among her most widely known prize-winning orchestrations are Maria Faust Sacrum Facere, In the Beginning, Maria Faust Machina, Shitney, and the Farm Fresh trio with musicians Tim Dahl (bass) and Weasel Walter (drums) from New York. Maria Faust has received several awards, including four Danish Music Awards, Estonian Jazz Musician of the Year 2016, Estonian Jazz Composer of the Year 2019, BMW Jazz Welt 2019 nomination, etc.
Anna Lidell, Chairman at DJBFA, describes Faust as follows: "Maria Faust is an artist and magician. Her way of expressing emotions and telling stories without words is outstanding and special. She yearns to push the limits of genres and uses elements from a variety of styles without losing her own unique expression."
In Estonia, you can listen to Maria Faust Machina at a Jõulujazz concert on 6 December in Kumu Art Museum.
Additional information:
Maria Faust
furiafaust@gmail.com